The Main window will appear (see below for tab descriptions) when you start WiseFixer.


The tab areas you can use include:
· Start
· Help
· Options
· Register
· Support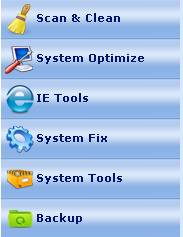 The WiseFixer™ indicator is displayed on the left side of the window.
The shortcut buttons from the Main Window include:
· Scan & Clean
· Registry Cleaner
· Evidence Cleaner
· Junk File Cleaner
· System Optimize
· IE Tools
· System Fix
· System Tools
· Backup
Minimize and Exit
Standard buttons to adjust the size of the Main window are shown as below.


From left to right, they are Minimize window to the taskbar and Exit.
Minimize window to the taskbar: Hide the window so that it is not in view on the
desktop but is placed on the taskbar.
Exit: Close the program. For more information, see the Start and Exit the
Program page.
---