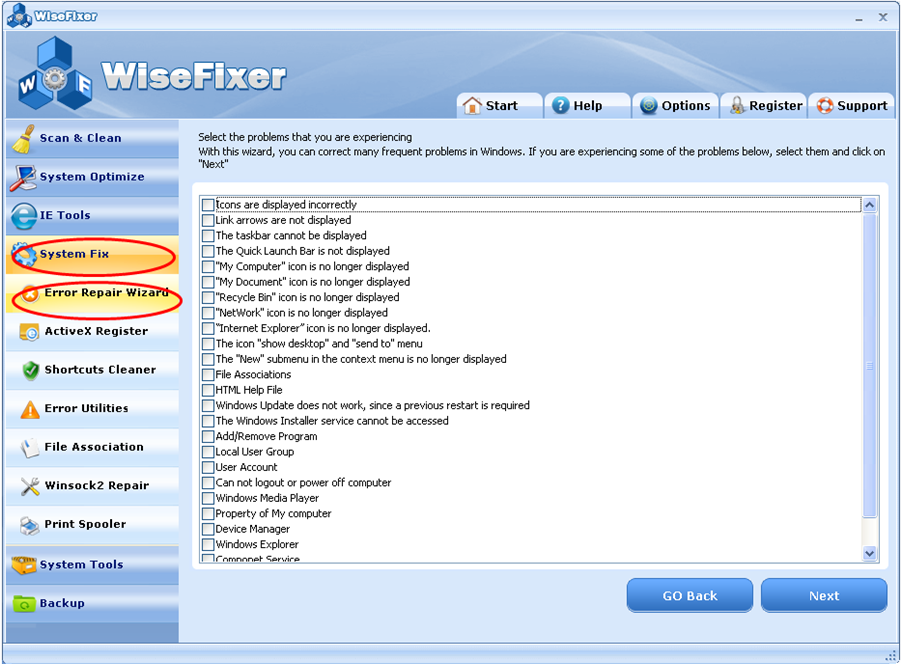 Frequent system crashes requiring you to restart ?
Computer screen freezes up ?
You see the Blue Screen frequently ?
The Error Repair Wizard can scan, identify, and fix the issues that are
causing you computer problems. It provides the user with a fix to a number of
frequent problems that you may experience on your Window system. We
recommend you understand the scope of your error before you try any
of the possible fixes.
The list of error items is shown below:
Icons are displayed incorrectly.
Link arrow is not displayed.
The taskbar cannot be displayed.
The quick Launch Bar is not displayed.
'My Computer' icon is no longer displayed.
'My Document' icon is no longer displayed.
'Recycle Bin' icon is no longer displayed.
'Network' icon is no longer displayed.
'Internet Explorer' icon is no longer displayed.
The icon 'show desktop' and 'send to' menu.
The 'New' submenu in the context menu is no longer displayed.
File Associations
HTML Help File
Windows Update does not work, since a previous restart is required.
The Windows Installer service cannot be accessed.
Add/Remove Program
Local User Group
User Account
Cannot logout or power off computer.
Windows Media Player
Property of My computer
Device Manager
Windows Explorer
Component Service
Universal Serial Bus
To enable the Error Repair Wizard:
Click the System Fix button on the left side, and then click the Error Repair Wizard button.
A list of items will be displayed on the screen.
Select one or multiple options for repair.
Click the Next button.